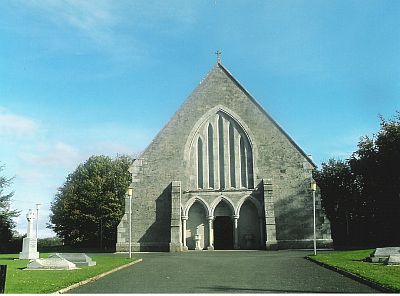 | | |
| --- | --- |
| Sunday | 11.00am |
| Tuesday | 10.00am |
| Friday | 7.30pm |
St. Mary's Church is Gothic in Style.  Building works were completed in 1865.  Fr. Felix Tracy  P.P. was the Building Pastor and John Sterling Butler was the architect.  The church is a fine structure with interesting stained glass windows.
According to the Irish Architectural Archive, Broadford Church was built between 1862 and 1865. It is a new cruciform church built next to an old chapel of 1790 in Early English style. Projected, 1862. Opened July 1865. Nave, chancel. altar of imitation Portland stone inlaid with stained glass. East window dedicated to the donor of the site.
Architect's Reflection on the Occasion of it's Refurbishment
Broadford Church was constructed in A.D. 1865, just over ten years after the Great Famine, by the parish community of Balyna, "for the greater honour and glory of God" and is dedicated to St. Mary. It fell to the people of Balyna Parish, some 150 years later, to carry out a substantial refurbishment of the building and re-order the sanctuary. I am proud to say that in conjunction with the Balyna Parish Building Committee and Liam Johnston's Contracting Team a quality refurbishment programme has been successfully carried out that retains the essential character of the 1865 building and reinstates the significance of the sanctuary, with its beautiful stained glass window, as the focal point of the church. The original "French soapstone" reredos frontis has been reinstated into a new limestone altar with a mix of old and new sacred art elements re-incorporated into the sanctuary. I hope and trust that these works will endure into the future in the same manner that the original works have served so well over the last century and a half.
Richard Barnwall, Quinn Barnwall Architects M.R.I.A.I.