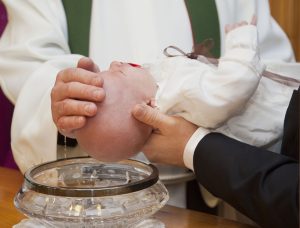 Baptism arrangements for Balyna Parish
Baptisms rotate around the three churches of the Parish. Contact the Parish Office during Office hours (10am to 1pm Monday to Thursday) to make a booking (046) 9551203. They are held on Saturday's at 12 noon.
Download the Baptism Registration Form here
Registration of Baptism
After the ceremony, the parish priest records the baptism in the Baptismal Register of the parish. This record includes the full names of the child, parents and godparents, the child's date of birth, the date of the baptism and the name of the officiating priest or deacon.
A Certificate of Baptism can then be issued by the parish as and when required.
Normally, there are two godparents for a Baptism, however it is permissible to have only one. In the case of two godparents, they should be male and female and both baptised and confirmed Catholics.
We would be delighted to receive a photo of your baby's Baptism to display on our website. If you wish a photo to be included you can send them by email to balynaparish2020@gmail.com or post to Parish Office, Garrisker, Broadford, Naas, Co. Kildare, W91 NHC6.